Mabelvale High School
Class Of 1961
In Memory
Linda Fooks (Adams)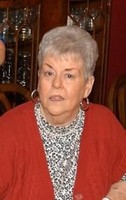 Linda Lee Adams, 71, of Alexander passed away on July 4, 2014. She was born in Benton to the late Lawrence and Marie Fooks on June 24, 1943. She spent her life making a home for her family and treasured the time she spent with them. She enjoyed reading and watching "The Young and the Restless". She was preceeded in death by her husband of over 48 years, Floyd B. Adams, Jr.
She leaves to cherish her memory her children Rhonda (Stewart) Linz, Dana Adams and Todd Adams; her sister Joyce (Donnie) Childres, her brother C.P. (Geneva) Clements; her greandchildren Tiffany (Brian) Mattingly, Nicholaus Linz and Brandon Linz and a host of extended family and friends, all who will miss her hearly.
Funeral services will be Thursday, July 10, 2014 at 10:00 a.m. in the chapel at Forest Hills Funeral Home with Pastor Larry Ballard officiating.
Visitation will be from 6-8 p.m. on Wednesday, July 9, 2014 at Forest Hills.