Mabelvale High School
Class Of 1961
In Memory
Bobbie Gail Townsend (Forbush)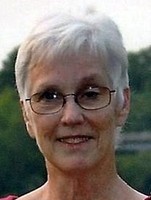 Bobbie Gail Townsend Forbush, age 71 of Little Rock, left this earth for her heavenly home on Friday, September 25, after a courageous
battle with cancer.
She was born December 2, 1943, in Little Rock, the 4th of 9 children t
o Philmor
e A. and Edna Earl Mathews Townsend. She graduated from Mabelvale High School in 1961. After working
various jobs, she found her true calling in life when in 1975, she began a 32 year career at the Little Rock Zoo.
She enjoyed serving the Lord with her church family, reading, camping and traveling with friends – But, her favorite pastime was traveling with her husband Lee to attend various racing events across the country, including watching her son race for the last 20+
years.
Full of life and love, Bobbie had the unique ability to recall and share many of her adventures and family history in great detail. As the old saying goes, "she never met a stranger". She loved to have conversations on any subject with anyone, at any time. She always said, "That's how you get to know people, talk to them". She spent many years teaching Sunday school and children's chapel to multiple generations of children in her church. She had a truly generous heart and demonstrated that by donating to various organizations and helping everyone she could.
She loved many kinds of music and artists incl
uding the Big Band style of Artie Shaw, George Straight, Rod Stewart and her favorite of all time, Elvis Presley.
Bobbie was preceded in death by her husband of 46 years, Lee Allen Forbush, her parents, her siblings Billy Townsend & Phyllis Ballentine.
She is survived by her son, Philip and his wife Dee Jefferson Forbush of Paron, AR. Siblings Betty Maxwell of Ward, Judy Townsend, Sheila Townsend, Stanley Townsend (Linda), Donna Seavers (Gary), all of Little Rock, Vicky Townsend (Jo Kinley) of Cabot. Along with many nieces, nephews, cousins, family and friends; She was blessed to have a lifelong friend in Carol Lovell Shaw (Earl) of Little Rock. Also included, are her faithful pup, Snooper, her loving cat Harley Davidson and her sweet grand dog Big Tex.
Services will include a visitation Monday, September 26, 5-7 pm at Griffin Leggett Healey and Roth, 5800 W. 12th Street, Little Rock. Funeral service will be 1:00 p.m. Tuesday, September 29th at New Haven Missionary Baptist Church, 19824 Lawson Road, Little Rock, with Bro. Roger Taylor officiating, burial will follow at Pinecrest Memorial Park.
Pallbearers will include: Gregg Herron, Craig Eubanks, Bruce Rich, Jason King, Mike Bores and Doug Speer
In lieu of flowers, please send memorials to the Circle of Sisters Ladies Auxiliary of New Haven Missionary Baptist Church, 19824 Lawson Road, Little Rock, AR 72210.